vrijdag 31 mei 2013
See on
Scoop.it
-
La Gazzetta Di Lella - News From Italy - Italiaans Nieuws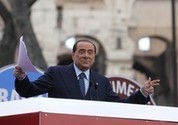 Rome, May 31 - Silvio Berlusconi on Friday described prosecutors' claims that three of his associates had helped create 'Bacchic orgies' at the ex-premier's home as the result of pathological "fantasy". Prosecutor Antonio Sangermano talked of orgies as he requested seven-year prison terms for TV anchorman Emilio Fede, bankrupt ex-talent scout Lele Mora and Nicole Minetti, a former Lombardy regional councillor and Berlusconi's former dental hygienist, for providing prostitutes for parties at the former premier's house.
"The arguments used by the Milan prosecutors about what allegedly happened at my house in the trial of Minetti, Mora, Fede are further from the truth than it is possible to imagine," Berlusconi said. "The fantasy of the prosecution truly appears to be boundless and it is approaching judicial pathology that can only cause indignation and concern.
"I'm certain that the power of the truth will demonstrate that these incredible, unacceptable reconstructions are groundless".
See on ansa.it
via Tumblr http://italianentertainment.tumblr.com/post/51816121637