See on
Scoop.it
-
La Cucina Italiana - De Italiaanse Keuken - The Italian Kitchen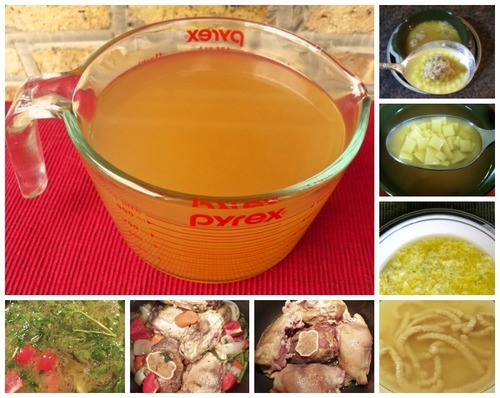 If you want to prapare ravioli - cappelletti - tortellini in brodo, or more typical Le Marche soups such as:
Passatelli or PassatiniAcini di Pepe con polpettineStracciatella (fantastic)Quadrelli
You need as main ingredient the broth and also a good one the "brodo della mamma" or even better "il brodo della nonna". The Bartolini in US seams to care about the most traditional way to prapare the broth. Here their Recipe
Mom's Broth Recipe
total time: approx. 3.5 hours
Ingredients
1 or 2 chicken thighs, with skin and bones1 or 2 chicken backsor2 or 3 chicken thighs, with skin and bones—————-1 medium-sized slice of beef shank or beef "soup bone" with meat attached.(2 – 3 tbsp extra virgin olive oil, if browning meat and vegetables)1 large onion, cut into large chunks – or – 2 medium, cut into chunks2 carrots, cut into chunks2 celery stalks, leaves included, cut into chunks2 – 4 garlic cloves, smashed1 tomato, rough chopped4 – 6 parsley sprigs(salt & pepper, if making soup and not broth)4 to 7 quarts of water, depending upon amount of meat used
Directions
For true "brown" chicken stock, purists will omit the beef.

Heat the olive oil in a large stock pot over medium-high heat. Add the onions, carrots, and celery. Stir occasionally while sautéing until the vegetables are lightly carmelized, about 10 minutes. Remove from pan and reserve.

In the same pan, sear the meats. You may have to work in batches.

When the last of the meat has been browned, return the vegetables to the pot, add the garlic, tomato, parsley, and enough water to cover all the pan's contents by 3 inches, at least.

For Mom's brodo:

Add all the ingredients to a large stock pot, and add enough water to cover all the pan's contents by 3 inches, at least.

Bring the ingredients to a boil, then reduce to a soft simmer. Periodically skim the film off of the surface.

For a pot this large, I will continue simmering the broth for 2.5 to 3 hours. Your cook-times may vary depending upon how much brodo you're making.

When finished simmering, take the brodo off of the heat to cool somewhat. Remove the meats and reserve. Pour the broth through a fine mesh strainer, discarding the cooked vegetables and herbs. Depending upon its intended use, you can pour the broth through a clean kitchen towel, resulting in a clearer brodo. Refrigerate once strained.

Once the broth is well-chilled, the fat will have risen to the top and can be removed relatively easily with a large spoon. Once the fat has been removed, store the brodo in air-tight containers in the refrigerator for a few days, or, in the freezer for several weeks.
See on fromthebartolinikitchens.com
via Tumblr http://italianentertainment.tumblr.com/post/40278301840