See on
Scoop.it
-
La Cucina Italiana - De Italiaanse Keuken - The Italian Kitchen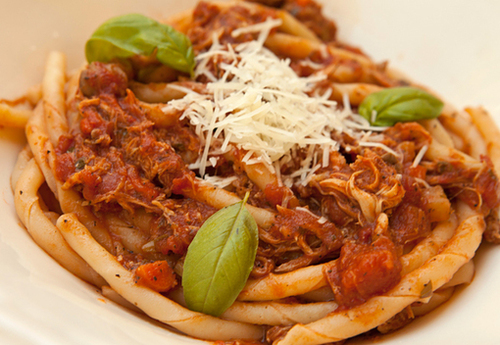 […] Slow Cooker Rabbit Ragu For Pasta

Yield: Serves 6Prep Time: 20 minsCook Time: 4 - 5 hrs

Ingredients:
1 (3-pound) Rabbit, Cut Into 4 PiecesFine Sea Salt & Black Pepper1/4 Cup Olive Oil1/4 Cup Diced Pancetta or Bacon1 Large Onion, Finely Chopped1 Carrot, Finely Chopped1 Celery Rib, Finely Chopped4 Garlic Cloves, Finely Chopped1 Teaspoon Dried Oregano1 Cup Dry White Wine1 (28-ounce) Can Diced/Chopped Tomatoes (preferably San Marzano)3 Tablespoons Tomato Paste1 Cup Water1/3 Cup Chopped Fresh Parsley1/4 Cup Chopped Fresh Basil1 Pound Pasta of ChoiceTo Serve:Grated Pecorino Cheese
Directions:

Pat rabbit dry and sprinkle with salt and pepper.

Heat 1/4 cup oil in a deep 12-inch heavy skillet over moderately high heat until hot but not smoking, then brown rabbit in 2 batches, turning over once, about 7 minutes per batch.

Transfer rabbit to your slow cooker, reserving fat in skillet.

Add pancetta, onion, carrot, celery, garlic, oregano, and cook over medium heat, stirring occasionally, until the pancetta and vegetables are golden brown, 5 to 6 minutes.

Add wine and boil, stirring and scraping up any brown bits, until most of liquid is evaporated, about 3 minutes.

Stir in tomatoes, tomato paste, and water, and bring to a boil.

Stir in the parsley and basil, then pour the tomato mixture over the rabbit pieces.

Turn the slow cooker on low for 4 to 5 hours.

Transfer rabbit pieces to plate, and when cool enough to handle, remove meat from bones, discarding bones and gristle, and shred the meat.

Return meat along with any juices to sauce to the slow cooker, taste, and adjust salt and pepper as needed.

If this sauce hasn't thickened, turn on high for 30 minutes and cook without the lid.

Meanwhile, cook pasta in a large pot of boiling salted water, uncovered, until al dente.

Drain in a colander, and return pasta to pot.

Add half the sauce to the pot, and stir well to mix.

Serve in individual bowls, with a scoop of additional sauce on top.

Pass the cheese at the table.
[read more…]
See on italianfoodforever.com
via Tumblr http://italianentertainment.tumblr.com/post/44614041265