See on
Scoop.it
-
Good Things From Italy - Le Cose Buone d'Italia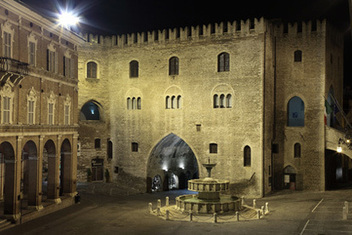 Situated between the Adriatic Sea and the Apennines, the Marche (or Marches in English) is a pleasant agricultural region bordering San Marino and Emilia-Romagna to the north, Abruzzo to the south, and Umbria to the west. It was originally named for the medieval March of Ancona and nearby marches of Camerino and Fermo.

The region's star attraction is the walled city of Urbino, which flourished during the Renaissance, and has justifiably been recognised as a World Heritage Site.

Famous people from the Marches include (chronologically): the Roman politician Pompey, the Renaissance painter and architect Raphael, the Enlightenment writer and philosopher Giacomo Leopardi, the composer Gioachino Rossini, the educator Maria Montessori, and the motorcycle champion Valentino Rossi.

Marchigian cuisine is fairly disparate and traditional. It is particularly famous for its brodetti, fish stews typical of the Adriatic coast that have constitued an essential part of fishermen's diet since ancient times. In Ancona, the regional capital and main seaport, you will find the brodetto all'Anconetana, a thick tomato-based stew made with 13 different types of fish and shellfish. Traditionally these usually include red mullet, scorpion fish, turbot, cuttlefish, squid, shrimps, langoustine, mussels, and clams, but ultimately depends on what's available at the market.

Other culinary specialties from the Marches include brodetto di Porto Recanati (fish stew flavoured with wild saffron), brodetto di San Benedetto del Tronto (fish stew with green tomatoes and sweet green pepper), olive ascolane (olives stuffed with ground prosciutto and pecorino cheese, and sometimes eggs or tomatoes, then battered and fried - specialty of Ascoli Piceno), passatelli all'urbinate (spinach and meat dumplings - specialty of Urbino), and vincisgrassi (lasagne made with onions, mushrooms, veal or chicken liver in a Béchamel sauce - specialty of Macerata).

The Marches have an abundance of cured meats such as coppa (aka capicolo; dry-cured whole pork shoulder or neck), ciauscolo (smoked and dry-cured pork sausage), mazzafegato di Fabriano (mortadella made from fat and lean pork with liver and lung), prosciutto del Montefeltro (smoked dry-cured ham made from black pigs with vinegar and ground black pepper), salame lardellato (sausage made of lean pork shoulder with diced bacon, salt, pepper, and whole peppercorns).

The province of Pesaro is Italy's biggest truffle producer, especially renowned for the rare and expensive white truffles.

There are 12 DOC or 5 DOCG wines in the Marches, although most of them are little known outside of Italy. The Marches produces 2 million hectolitres of wine annually, 20% of which is DOC(G). The region is best known for its crip, refreshing white wines, such as Verdicchio dei Castelli di Jesi, which has been called the best wine for fish in Europe, and Verdicchio di Matelica. The Verdicchio owes its name to the slight green hue of the wine made from this grape variety.
See on eupedia.com
via Tumblr http://italianentertainment.tumblr.com/post/47535644797