See on
Scoop.it
-
Good Things From Italy - Le Cose Buone d'Italia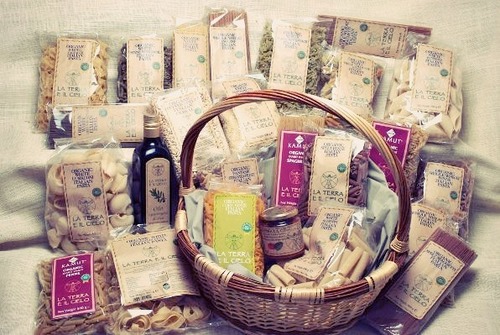 LA TERRA E IL CIELO is located below the splendid Piticchio castle in the hamlet of Arcevia, in the green countryside of the province of Ancona, halfway between the Apennines in the Marche region and the Adriatic Sea.

LA TERRA E IL CIELO has its own dehulling plant, devoted exclusively to organic cereals. High quality flours rich in fibre and protein are obtained from the husking and subsequent milling of spelt and other organic cereals.

The secret of the high organoleptic quality of LA TERRA E IL CIELO pasta stems from the high organic quality of the flours used and the skill of the millers and pasta makers, but is crowned by the chosen drying method which means that the pasta is "alive". LA TERRA E IL CIELO chooses to dry its pasta slowly, with warm air, in several phases and at natural temperatures, equivalent to the Mediterranean summer peak temperatures of just 45°C. This means that, depending on the shape of the pasta, it can take up to 40 hours to dry. This treatment, which would appear to be economically unfeasible, allows the pasta to retain a very high content of valuable substances such as vitamins and amino acids (B1, B2, lysine, methionine etc.) which "dead" pastas don't have.

The extrusion process too, which requires a considerable amount of skill by the pasta maker and gives the pasta a rough surface which is perfect for sauces, envisages a water-based cooling system to prevent the dough from overheating.

LA TERRA E IL CIELO has decided to make its wholegrain flours from a variety of cereals, using an antique mill with hydraulically-powered millstones. Its name is Spoletini Mill and it is located in Piticchio di Arcevia, just a few kilometres from the Cooperative's headquarters. Milling is fundamental for the cooperative because it is the process that allows the flours to retain their nutritional and organoleptic characteristics for subsequent transformations. The skill of the miller, who has always worked with the Cooperative and descends from a local family of millers, is a considerable added value and maintains a traditional cultural and economic heritage of inestimable value in Piticchio.
See on laterraeilcielo.it
via Tumblr http://italianentertainment.tumblr.com/post/49916662768