See on
Scoop.it
-
Good Things From Italy - Le Cose Buone d'Italia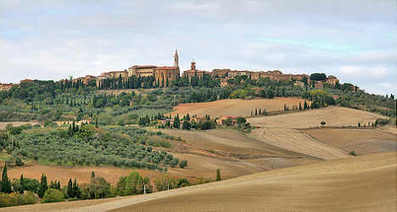 An "ideal city" inspired by Renaissance humanism off the beaten track in the Tuscan hills is finding new fans with 15th century urban planning that still appeals to today's city dwellers.

"It looks idyllic!" said a tourist from Melbourne in Australia as she admired the harmonious mix of palazzi, churches and immaculately-kept homes of Pienza, a town of 2,000 people in the Italian region of Tuscany.
"I think it's nice to live in a town like this because the food is grown very close to where you're living," said Kay, part of the growing number of visitors coming to view a town set apart from the usual tourist routes.
Ochre-coloured Pienza is structured around a spectacular piazza and was designed to be as pleasant to live in as possible and to blend with nature.
It overlooks the fields and vineyards of the Val d'Orcia - a picturesque backdrop that has been registered as a UNESCO World Heritage site. […]
See on thelocal.it
via Tumblr http://italianentertainment.tumblr.com/post/59663141166