See on
Scoop.it
-
La Gazzetta Di Lella - News From Italy - Italiaans Nieuws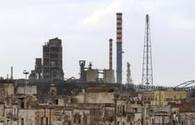 (ANSA) - Taranto, October 31 - Prosecutors investigating the troubled ILVA steel plant in the Southern Italian city of Taranto, which has been at the centre of a long-standing judicial issue, contend the owners have been carrying out illicit waste-management practices since taking over the company from the State in 1995.
For the past 18 years, ILVA has allegedly disposed of dangerous and non-dangerous waste in the ground and the local water system, as well as the sea, according to those carrying out the probe.
The accusations are amongst the heaviest that are included in the preliminary investigation documentation that is being notified to some 50 people and three companies that are being evaluated for their involvement.
The company based in the Puglia port city has been at the centre of a long-running judicial and political tug-of-war as courts have moved to force the company to make expensive environmental upgrades to the plant, accused of polluting the area and creating health problems for more than a decade.
See on ansa.it
via Tumblr http://italianentertainment.tumblr.com/post/65633393741