See on
Scoop.it
-
Good Things From Italy - Le Cose Buone d'Italia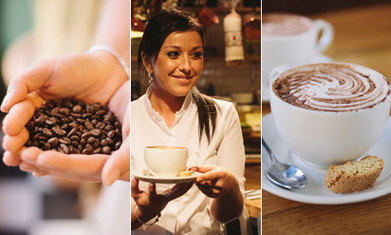 Italy was the first European country to enjoy coffee in the early 17th century. Even today, with its vibrant cafes and top-quality espresso machines, Italian coffee culture still leads the way.
In Italy, coffee is almost a sacred ritual. Gillian Riley, the UK's leading scholar of Italian food, says, "The aroma pervades the streets … and the social rituals of drinking it … are some of the vital threads in the fabric of Italian society." Indeed, according to Riley, "coffee seems to outsiders to define Italy."
Of course, Italians have had a lot of practice. Italy was the first European country to sample coffee, brought to Venice in the early 17th century from Arabia. After Pope Clement VIII (reign 1592-1605) overcame the opposition of churchmen, who regarded coffee as an "infidel" drink because of its origins, its popularity grew steadily. Italy's first coffee house opened in Venice, and throughout the 17th century these important centres of debate and socialising proliferated not just in Italy but across Europe.
The favoured brew in much of Europe was modelled on Turkish coffee, very strong and with the grounds left in. A taste emerged (probably originating in Vienna) for filtering before drinking, and sometimes for adding milk. The practice spread to Italy, where it eventually yielded the ultimate coffee technology: the espresso machine. The patent for the modern espresso machine was given just before the second world war.
Espresso means three things: "pressed", a reference to the forcing of hot water through the ground coffee to extract the full flavour of the beans; "quickly", because it is made so quickly; and "expressly", meaning made to order. The speed of the operation created not just a new type of coffee but a new coffee experience. Now you could rush into your local cafe on the way to work and be out the door in a matter of minutes, your batteries charged by a quick espresso boost. Or you could linger endlessly over a smooth cappuccino and a pastry. Those options are still available throughout Italy and are an integral part of the country's coffee culture.
Full article
See on guardian.co.uk
via Tumblr http://italianentertainment.tumblr.com/post/34020062593