See on
Scoop.it
-
La Cucina Italiana - De Italiaanse Keuken - The Italian Kitchen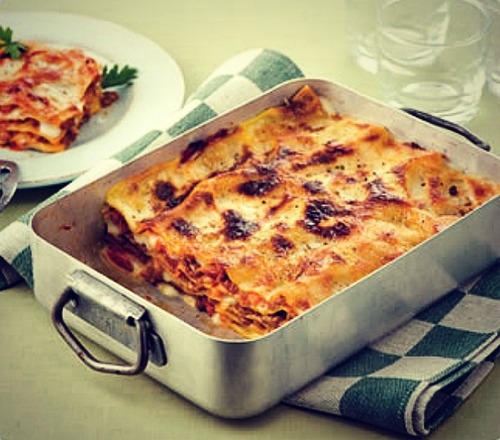 […] Le Marche produces a varied, seasonal cuisine and truly distinctive wines. To fully appreciate the charms of this undiscovered region, combine an off-the-beaten-track tour of the region's coastal scenery, breathtaking mountain views and evocative history with an exploration of some local culinary highlights.
Olive Ascolane: local stuffed olives
A specialty of the regional capital, Ascoli Piceno, these stuffed olives, painstakingly and lovingly hand-made by local women, make an appearance at big events and special occasions. Green olives are pitted and stuffed with a filling of meat and cheese, dipped in beaten egg and breadcrumbs, and deep-fried to a golden brown in sunflower oil. Served as starters or snacks, these addictive olives can be bought in cartoccio for eating on the go (or in frozen batches for frying at home) from the various wine bars and trattorie in Ascoli Piceno.
Ciauscolo: smoky pork sausage
This soft smoked-pork sausage is flavoured with fennel, garlic and vino cotto, a local non-alcoholic 'cooked wine' made from grape must with a unique sweet-and-sour flavour. Served spread on toast as an appetiser or a snack, thick slices or chunks of ciauscolo are also used to enrich winter meat, bean stews or vegetable soups. The best ciauscolo can be found in any norcineria or butcher in Le Marche's many hilltop towns. Ciauscolo crostini features as one of 15 courses at the atmospheric Il Picciolo di Rame ( www.picciolodirame.com), a restaurant specialising in historical Le Marche cuisine that's set in a medieval olive oil mill in the tiny village of Caldarola.
Vincisgrassi: an epic lasagne
Le Marche's version of lasagne is a rich, baked pasta dish of epic proportions – 12 layers of soft, slippery pasta sheets are interspersed with veal ragu, chicken liver or lamb sweetbreads, truffles or wild mushrooms, and béchamel sauce. A proper vincisgrassi is (unsurprisingly) reserved for special occasions, but simpler versions of the original can be sampled in Macerata, also home to the Arena Sferisterio, a Roman-style outdoor theatre hosting one of the opera world's biggest annual events in July and August. Enjoy vincisgrassi with a glass of Rosso Piceno, a full and fruity red wine made from a blend of local Sangiovese and Montepulciano grapes.
Brodetto all'Anconetana: a decadent fish soup
Stop at any restaurant along Le Marche's coast and you're bound to find a version of this fish soup. Traditionally made with 13 different types of fish and shellfish (one for each person at the Last Supper), the tomato-based soup, rich with the flavour of fresh seafood, evolved from the local fishers' dilemma around how to use up by-catch. Brodetto all'Anconetana is a specialty at Uliassi ( www.uliassi.it), a seaside restaurant in Senigallia with two Michelin stars that is widely regarded as one of Italy's best seafood restaurants. In autumn, brodetto afficionados flock to Fano, a beach resort southeast of Pesaro, for the annual Brodetto and Fish Soup Festival. A perfect white wine to accompany fish is the fresh and tangy Verdicchio, Le Marche's most famous wine, hailing from the areas of Castelli di Jesi and Matelica.
Crema fritta: 'fried cream'
A Marchigiana delicacy is crema fritta (literally, fried cream), which makes an unusual appearance in the local fritto misto, a mixed fried platter of zucchini, onions, olive ascolane and veal or lamb kebabs. Cooked cream is set in the fridge overnight, then gently coated in egg and breadcrumbs and deep-fried on skewers. Vernaccia, a sparkling red wine unique to the tiny village of Serrapetrona, makes a refreshing accompaniment to fried foods.
See on lonelyplanet.com
via Tumblr http://italianentertainment.tumblr.com/post/42920913328