See on
Scoop.it
-
Good Things From Italy - Le Cose Buone d'Italia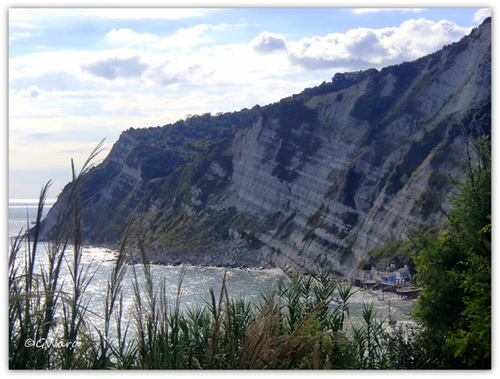 I had part of a day to spend in Ancona, an Italian port city on the Adriatic Sea. Ancona does not appear in many guide books, perhaps because the authors think it has little touristic interest. Yet, right across the street from my hotel, I discovered an entrance to Parco del Cardeto, the largest urban reserve park in Ancona, officially opened in 2005. This 35-hectare park consists of the beach and cliffs along the Adriatic coast from Ancona's port and old town section towards the south.
As you wander through the park, strategically-placed signage gives you hints about the human and natural history of the area. The cliffs consist of Miocene marl, 17 million year old sea shells mixed with clay and volcanic ash. And just like in our Rocky Mountains, the layering of the sediments exposes rock of varying permeability, causing plants to grow differentially.
The prevalence of wild thistle in the park has been a source of controversy. Silybum marianum grows wild and is a major food source for the goldfinch. As the thistles are replaced with short landscaped grasses, the abundance of the finch decreases, leading to a debate in how best to keep the park natural yet enjoyable. As a side note to this, the milk of this wild thistle was used in mediaeval times to deal with problems of the liver and urine retention. Amazingly, now the milk is of some pharmacological interest in the production of medications related to control of hypertension.
There is a great deal more of interest in this park. It was obvious to me that people have been accessing this beach long before it was a protected park. Caves dug over the centuries by fishermen are in still in use today. The plankton at the base of the marine food system leads to an abundance of harvest from the sea. I only had a couple of hours to explore this area, and would like to return.
See on genomealberta.ca
via Tumblr http://italianentertainment.tumblr.com/post/66949019535