See on
Scoop.it
-
Good Things From Italy - Le Cose Buone d'Italia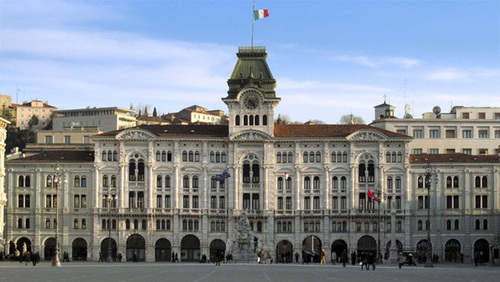 It's another day of bright blue sky and crisp cool breeze. The sunlight bounces of stately marble columns and neatly kept, yellow painted buildings alike. Sometimes it looks like an Italian city, with its regular fronted modern concrete. Other times Trieste looks as it was, one of the main cities and principal seaport of the Austro-Hungarian Empire.
A mix of peoples has always lived here, since its location at the head of the Adriatic made it, and makes it still, an ideal jumping point into 'MittelEuropa'. So what makes it special now is not so much the fact that it is 'politically' Italian, but that the entire culture and style of the city is international – more so than its opposite number Genova, a little like Istanbul is today.
On the hills behind Trieste, those heading westwards into Italy, you will stumble across a small village called Prosecco. Yes, that Prosecco! This is where it is first came from, though the sparkling Prosecco most of us joyfully drink comes from the hills around Treviso. Just a short distance away from Prosecco is a complex of underground grottoes you can visit, one cave being the biggest in all Europe that is open to visitors.
Not far from Trieste is Miramare, one of the summer palaces of the Habsburg monarchs, a delightful confection that juts out into the sea like a bright white fairy story. Only the story of Miramare is a sad one, one of many that befell old ranz Josef in the dying years of the Austrian Empire.
The city is bright and happy now though, with its bustling business, its sense of no borders and the dynamic social life that follows in its wake.
Lots to see and do, so go visit one of the very corners of Italy!
See on reveal-italy.com
via Tumblr http://italianentertainment.tumblr.com/post/43815361850