See on
Scoop.it
-
La Cucina Italiana - De Italiaanse Keuken - The Italian Kitchen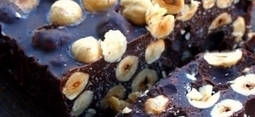 The recipe of tender chocolate nougat.
Typical from L'Aquila and already popular before World War I, between 1920 and 1930 the tradition spread out to serve nougat on the occasion of family celebrations and village festivals.
Ingredients: 250 gr of honey, 300 gr of sugar, 3 egg whites, 200 gr of dark chocolate, 600 gr of peeled hazelnuts, vanilla, water, wafers.
Start to prepare this delicious dessert by grinding the chocolate and then melt it with a glass of water and 50 gr of sugar. Candy 250 gr of sugar with some water. Then beat two egg whites until stiff and add to them some honey melted in a bain-marie, the melted chocolate and the caramel.
Add the hazelnuts and mix on the flame just for some minutes. After laying out the wafers, pour the mixture, cover it with more wafers, and wait until it cools off. Cut it into small pieces and it is ready to be enjoyed!
See on visitabruzzo.co.uk
via Tumblr http://italianentertainment.tumblr.com/post/34571161458